Chiusdino
Chiusdino - Val di Merse, Tuscany, Italy
Chiusdino - Val di Merse
Chiusdino is a Tuscan hilltop town overlooking both the valley of the river Merse and the Metalliferous Hills of the Maremma in Tuscany, Italy. It is fortified and was originally a castle dating back to the 9 C. Chiusdino was governed by the Bishops of Volterra and subsequently (13 C) by the Siennese.

The most famous sights in Chiusdino are the Church of San Martino, the Prepositura di San Michele next to the house where Saint Galgano was born and the Church of the Compagnia di San Galgano where there is a beautiful bas-relief made in 1466 depicting San Galgano plunging the sword into the stone.
The fortified village and Castello di Frosini, ancient residence of the Gherardesca Counts, is nearby and well worth a visit.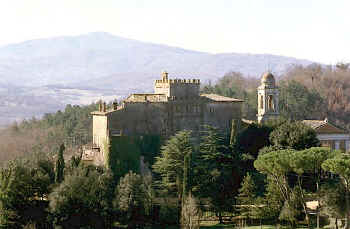 Castello di Frosini, Tuscany, Italy
Val di Merse © ammonet InfoTech 2008 - 2020. All rights reserved.